You know about traditional therapy that occurs on a therapist's couch. It involves talking about your feelings and going over things that happened in your childhood. If there's a long-standing trauma in your life this is helpful. But what if you're trying to recover from stress and need to find a healthy and relaxing outlet to direct your energy and worries?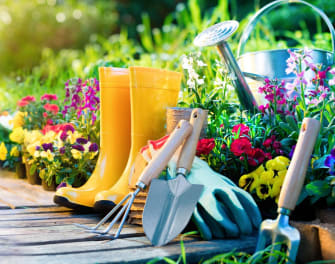 Although people have known about it for decades, horticultural therapy offers an easy and relaxing way to heal your whole being. If you're curious how you can start implementing this practice in your daily life, wonder no more. Discover how it helps and what you can do to take advantage of garden therapy.
Garden Therapy Improves Memory and Cognitive Abilities
Individuals who live with cognitive disabilities benefit from therapeutic techniques. These focus on improving their current state of being and keep them from regressing.
One of the benefits of using garden therapy is these techniques adapt to whatever the patient needs.
Research shows that depending on the needs of the individual, there's a therapy program that matches what they're looking for. Folks who need socialization can work together in community gardens.
Those needing to improve their strength can focus on gardening tasks like standing and digging for extended periods of time. For people that experienced strokes and lost skills or use of a certain part of their body, working in the gardens offers a calm and simple way to rebuild themselves.
With the ability to meet the needs of the individual, garden therapy is a helpful resource. It's ideal for anyone looking to explore a different avenue of improving their skills.
Horticultural Therapy is Useful for Those With Emotional Issues
Individuals who've experienced trauma often have a difficult time coping with daily life. Those with mental illness, depression, anger, and other emotional disturbances that make it difficult to function search for an outlet that can help them cope with life in addition to other traditional therapies.
The benefits of horticulture therapy show individuals how they can grow and change, just as flowers and plants do. This puts life into perspective and gives people an outlet to work with.
Going outdoors and engaging in an activity that gives meaning and purpose can create a pleasant diversion.
Gardening offers helpful benefits. These include being in the outdoors and engaging in a psychical activity, both of which boost endorphins.
This is a helpful supplemental activity for those needing an outlet or at a loss of ways to work through their emotions.
Working in a Garden is Beneficial for All Ages
Garden therapy helps individuals of all ages. It's enjoyable regardless of what issues they're going through or how much knowledge they have about gardening.
With the right kinds of plants, you can engage preschoolers in gardening. Or, you can work with senior citizens and create a garden that is easy for them to maintain.
Although some gardens are elaborate, it's not mandatory. You can choose to plant nothing but flowers or focus on just vegetables.
Many people find once they get started, they want to learn more about gardening. Children discover where their food comes from and adults can take in additional produce at a lower cost than shopping at the grocery store.
All ages will delight in the ways that nature takes over once they've established a garden. The presence of birds, deer, rabbits and other animals make a garden interesting to watch as visitors come in.
For those dealing with emotional or physical issues, seeing friends and family engage in gardening with them is inspiring. It shows them others share their interest and have a desire to help them, even if it's simply engaging in a hobby together.
No matter how old or young someone is, chances are they're still of the age where it's easy to feel enthralled about the excitement gardening brings.
Getting Started Working With Garden Therapy
Many garden therapy programs take place in community centers or other rehabilitation facilities. These focus on helping individuals with specific needs.
If you or a loved one is going through this therapy and wants to expand beyond the current offerings, there's no reason not to start a garden of your own.
Gardening doesn't have to involve large plots of land. You can grow your own garden on an apartment balcony and enjoy flowers and produce right outside your door.
Consider what types of plants you're interested in growing and set goals for your garden. Think about adding a bird bath, bird houses, or even a fountain to make your garden connect with nature and feel like a place of comfort and healing.
Having a space to call your own makes a difference when you're looking for quiet and solitude. As your skills increase, you'll gain confidence in yourself and your abilities to learn more than just gardening.
Discover More About the Benefits of Gardening
Horticultural therapy offers a useful solution. It helps individuals needing to improve cognitive skills and increase their physical limitations.
For those that experience emotional or mental distress, working in a garden is proven to be beneficial, relaxing, and even life-changing.
If you're wondering how working in a personal garden can help you, consider how much you'll learn by growing your own plants. You'll enjoy seeing nature in your backyard.
You'll even discover animals that get enticed by your plants and vegetables.
Gardening is ideal for all ages, even for those that have little experience working with plants. If you're curious on how to get started, we're here to offer advice along the way.
Check out our blog on knowing when to harvest vegetables, and see what it takes to get started growing your own produce.