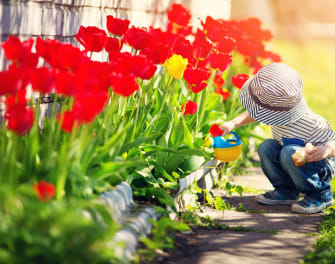 For centuries, families have made gardening part of their routine for food, community, and to teach their children the importance of nature. In fact, 35 percent of households in the United States are growing their food at home in their own gardens or in a community garden.
Gardening with kids is an engaging way to introduce children to the wonders of growing, planting, and harvesting herbs and food. But don't take our word for it we've compiled a list of the most incredible gardening benefits for children.
1. Teaches the Importance of Patience
Children are sponges. It's incredible how quickly they can learn languages, ideas, and dive headfirst into their imaginations. Of course, they're not fully developed, but in these early years, it's vital to establish the importance of values like patience.
When you get kids in the garden, you have the opportunity to teach them that patience is the key to gardening. That doesn't mean it's boring, though! When most children hear the word "patient" they most likely associate it with something dull.
Redefine the word for them and show kids how a little bit of hard work, care, and a sprinkle of patience
2. Explores Responsibility
Nothing teaches responsibility quite like creating something yourself. When you garden with children, they are learning about patience as well as responsibility. Planting anything requires daily maintenance. Whether they're checking the progress of their seeds, carefully picking out weeds, or simply watering their plants, kids will have to take responsibility with their own plants.
As you garden with your children, remember to explain the process as you go. If you're an avid gardener, it's easy to forget that there are certain parts to the process that the child may not understand, such as watering the seeds.
If the child provides the right care and patience, the moment the vegetable, flower, or herb sprouts will be one they never forget.
3. Encourages Healthy Eating Habits
Encouraging children to eat their fruits and vegetables is usually a task every parent has to wrestle with. Healthy food is essential for their body, mind, and development but they may be fussy about strange new foods.
Encourage healthy eating habits by inviting kids into the garden with you! Showing children how their food is grown and having them help throughout the process will make it even more exciting when it's ready to eat.
Gardening with kids explores their relationship with food and introduces the idea that all food is grown in some way. A child may find a salad more exciting and appetizing knowing that they helped grow the vegetable in it.
4. Assists with Social Skills
Gardening is a social activity of and within itself. It's more fun to garden with a partner or, in this case, your children!
As a toddler, children are just beginning to learn social skills and finding where they fit within the family, among their friends, and how to communicate properly. Gardening provides a unique playground for you to encourage community, the importance of being helpful, and establishing a love for the great outdoors.
Gardening with preschoolers, for example, encourages communicating with their family or siblings. It is also a very nurturing experience between both parent and child, as well as gardener and plant. Bond with your children and foster a colorful, bountiful love of nature, food, and family ties.
5. Engages All Five Senses
The most effective education is multi-sensory, meaning all five senses are engaged. When gardening with kids, their senses are all present.
Consider the five senses: sight, hearing, smell, taste, and touch. Gardening involves each and every one of these senses. From the early years when they familiarize themselves with certain foods, flowers, and plants, to digging their fingers into the dirt or taking the time to smell the flowers, a day spent in the garden touches each sense in a positive, unique way. It fosters creativity, supports inquisitiveness, and it's just plain fun!
Multi-sensory learning is especially recommended for children who are exploring their senses. Let your kids get dirty in the garden, ask questions, and spend time with the family.
Beyond sensory, it's also quite physical. Encourage a healthy, active afternoon by allowing them to help with the digging, planting, and watering.
6. Improves Motor Development
Children are not the most physically stable people but gardening can help that! When you're young, your motor skills are still in its infancy. Improve and support motor development skills by taking young children into the garden!
Involve children in appropriate gardening activities for preschoolers that improve hand-eye coordination. Allowing them to place the plant in the hole they dig, plant the seeds, or water the flowers will help their motor skills. These motor skills will come in handy later when they learn to write, type, and cut.
Children also benefit from "heavy work" like carrying a watering can, pushing a wheelbarrow full of dirt, or watering the flowers. This type of work increases focus.
7. Introduces Kids to Science
Help your children learn about plants and introduce them to the wide world of science. A love of science usually stems from a young age, whether they realize it or not.
Gardening is an exciting introduction to botany, biology, and even chemistry. Even with young children, you can begin to foster their love of science with simple concepts like how watering the plant helps it grow.
Allow your children to ask questions or research on their own with a kid's book on gardening! Working in the garden is fun and also serves as a homemade science lesson!
Learn More About Gardening with Kids at Decker's Nursery
At Decker's Nursery, we believe that gardening with kids is more than an activity, it's a family affair. If you feel like you don't know enough about gardening to teach your children, our team is here to help!
Decker's Nursery hosts seasonal events and workshops at our nursery in Greenlawn, New York. Register for one of our upcoming events or become a member of our Frequent Flower Club for priority enrollment, tips, and special promotions exclusive to our members!